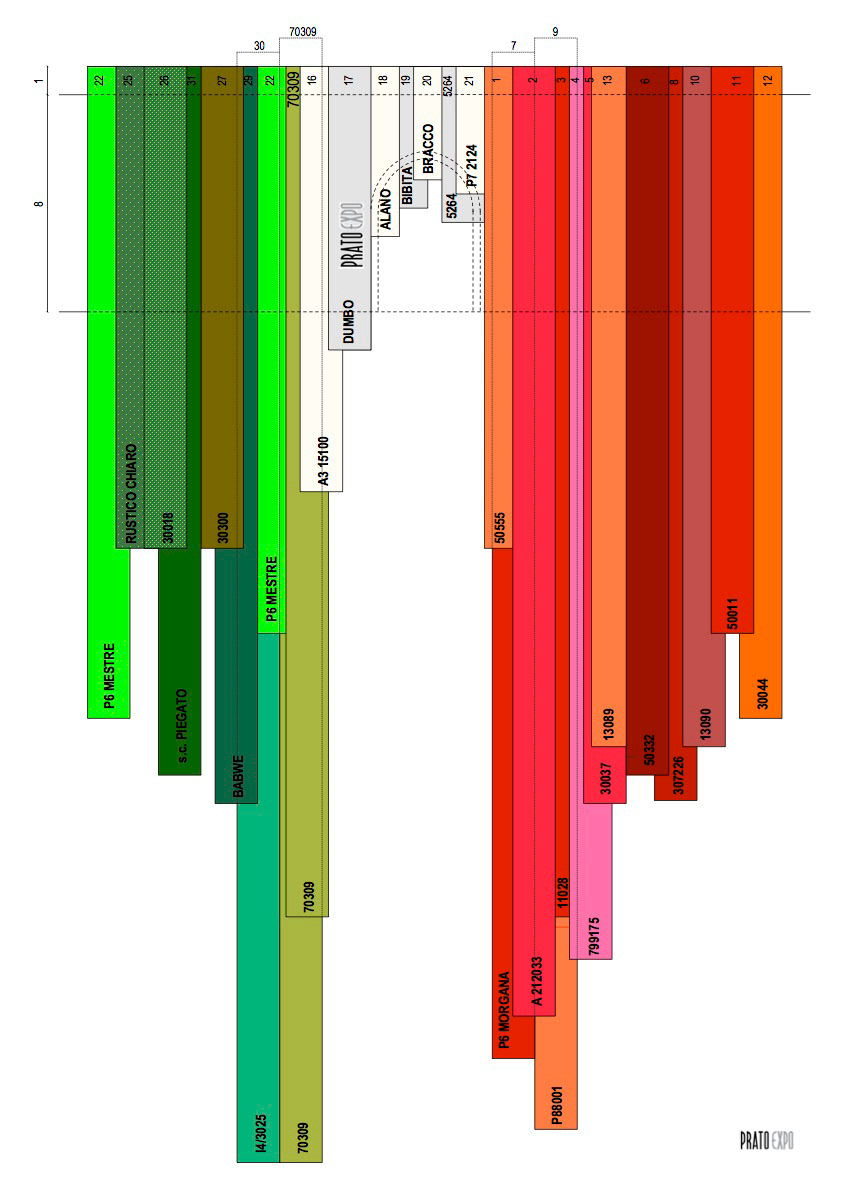 PEZZE - Installation at the Fortezza da Basso - 54th edition of PRATO EXPO Firenze (FI) ITALY
The PEZZE installation - commissioned by Prato Trade, a consortium of textile companies established in 1979 on the initiative of the Industrial Union of Prato - was created with the intention of promoting the 54th exhibition "Prato Expo", provoking itself in a provocative contrast with the invasion of Made in China.
The exhibition project seeks above all to obtain a more effective result in the communication of the fair event. The objective is to make the object of the event immediately visible in an alternative way compared to traditional communication tools, contextually enhancing the perceptive value of the "woven" product.
And it is precisely the fabric that is 'the protagonist' of the staging of creativity, creativity and the entrepreneurial capacity as guests of the fairgrounds within the walls of the Fortezza da Basso.
Something irrepressible that explodes in its opulent refinement from the walls of the Fortress to involve the external areas and ideally the city of Florence.
Three kilometers of fabric, witnesses of an all-Italian creativity, overflow from the boundary wall. They frame the access portal, enhancing its historic grandeur and, taking place on the external parterre for about 50 meters, they underline the entrance area, symbolizing the invasion of the entire urban area.
The idea is also projected on the outermost area, that of the pedestrian area in front of the Porta Santa Maria Novella, where large cylinders in the form of 'pieces' of fabric (so the industrial rollers are called in jargon), stand out in the context of urban skyline, usable by the many passers-motorists who travel along Viale F. Strozzi.
CLIENT:

 Prato Trade, Consorzio di imprese del distretto di Prato (PO) - ITALY
DESIGN: Arch. Vincenzo Russo, Arch. Diana Eugeni, Arch. Francesco Draisci
COMPANY:

 Marco Martini & C Sas - Prato (PO) - ITALY
LOCATION: Firenze (FI) - ITALY